Lewis Clark was ecstatic just to be able to do the simple thing of sitting in his living room for a recent interview.
His frame of mind tremendously increased when he talked about how he had so far beaten the odds of doctors' diagnosis.
Roughly one month ago, doctors at UNC Medical Center informed Clark his kidneys were failing and gave him only two days to live. Preparing for what he believed was inevitable, Clark's dying wish was to do so at his home.
Ambulance personnel loaded Clark on a gurney for the 88-mile trip to his Rocky Mount home and to prep him for hospice care.
"When I got to my walkway, I stopped them," Clark said. "I told them, 'I will not be carried in my house.' With their assistance, I walked up the steps and into my house."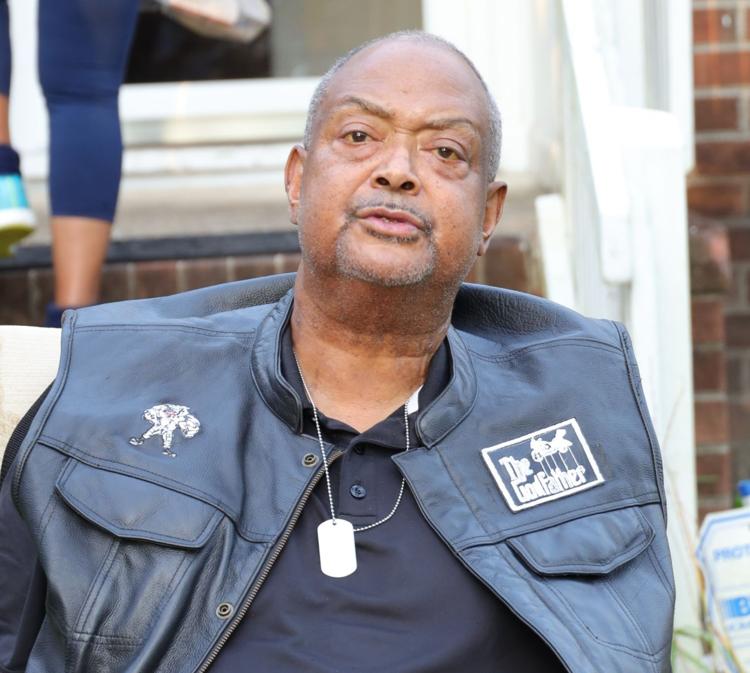 Perhaps that was the beginning of a miracle for the 57-year-old motorcycle enthusiast whose nickname is "The Godfather." A 10-year bout with congestive heart failure has somewhat normalized sickness for Clark. Doctors' visits are frequent, and his cupboard is filled with medicine.
Despite his physical obstacles, Clark was able to go about his daily routine without too much hassle. 
"I was feeling really bad, so my wife decided to take me to the doctor," he said while holding back tears. "When I woke up, it was a week later. They told me my kidney was failing and I had about two days to live. A few days later, I made my funeral arrangements. I felt defeated."
The Rocky Mount-based motorcycle club, the Street Soldiers, got wind of his dreadful diagnosis. They wanted to honor The Godfather. It is likely that the majority of the members knew Clark's passion for motorcycles. He owns and operates a motorcycle stunt team and he sponsors and assists with sponsoring motorcycle events. The largest is the famous Bike Fest in South Carolina.
A phone call by one of the Street Soldiers to The Godfather led to a charity ride to Clark's home the next day. The rumbling motorcycles were music to his ears. Still weak, he walked out of his house with his walker and sat in a chair on the walkway.
Clark's front lawn was filled with motorcycles. Perhaps the highlight of the spontaneous event was the president of the club bestowing Clark as an honorary member. For a short moment, the Street Soldiers made Clark forget about his medical problems.
"I was a little weak, but I had to do it because I didn't know how long I was going to live," he said. "I was defeated, but I hadn't given up. They lifted my spirit and gave me hope — not only them but my church, Pastor Richard Gerald and the Metropolitan Baptist Church of Rocky Mount, (state Rep.) James Gailliard, Sheriff Clee Atkinson and many more."
The club visit was perhaps a dose of medicine that worked better than the doctor prescribed. As each day passed, Clark grew stronger and stronger. He now can walk without a walker and his voice no longer is raspy. He shattered the doctors' two-day diagnosis of death.
Clark's defiance baffled the doctors so much that they made him an appointment to see a heart specialist Friday at the University of Pennsylvania hospital, and later he will see a kidney specialist in Henderson.
"He said, 'I can get some help for you.' That was good news," Clark said. "I know if they can help, it's going to be expensive."
The Street Soldiers came through once again with another dose of medicine by organizing a second charity motorcycle ride to be held today. This time, anyone who has a bike can participate and donate funds toward Clark's medical expenses.
"I've gotten calls from some of everywhere," Clark said. "I am expecting about 300 bikers to participate. I am overly joyed that they think that much of me to do this. They are giving me another chance, and I am forever grateful. I don't want to die. There are some things I have to take care of."
One of them is to straddle his 2014 Victory 8-Ball motorcycle and cruise through the countryside. The Godfather just may do a stunt or two.
"I can still ride my bike," he said.
Registration for the Godfather Charity Ride will begin at 1:30 p.m. today at 125 Arrowhead Road in Rocky Mount. The ride will start at 2 p.m.