Sixty years ago, 42-year old restaurateur Wilber Hardee opened the very first Hardee's at the corner of Charles Boulevard and 14th Street in Greenville.
The brand-new eatery was located near the campus of what was then East Carolina College, later to become ECU, getting started not quite a year after the first McDonald's in North Carolina had opened in Greensboro.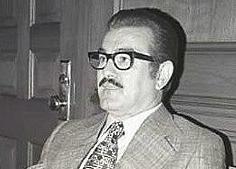 Hardee had visited the Greensboro McDonald's one Sunday morning and liked what he saw of the simple menu and profit potential. He thought he could do even better with the concept by adding char-grills to give the burgers more flavor than the McDonald's patties, which were cooked on a flat-top grill.
After Hardee opened the business on Sept. 3, 1960, it was immediately successful. The menu's only items were hamburgers and cheeseburgers, milk shakes, soft drinks and fried apple pies. Hamburgers were 15 cents and cheeseburgers were 20 cents, with Hardee later claiming that the simple offerings represented the "best menu I ever had."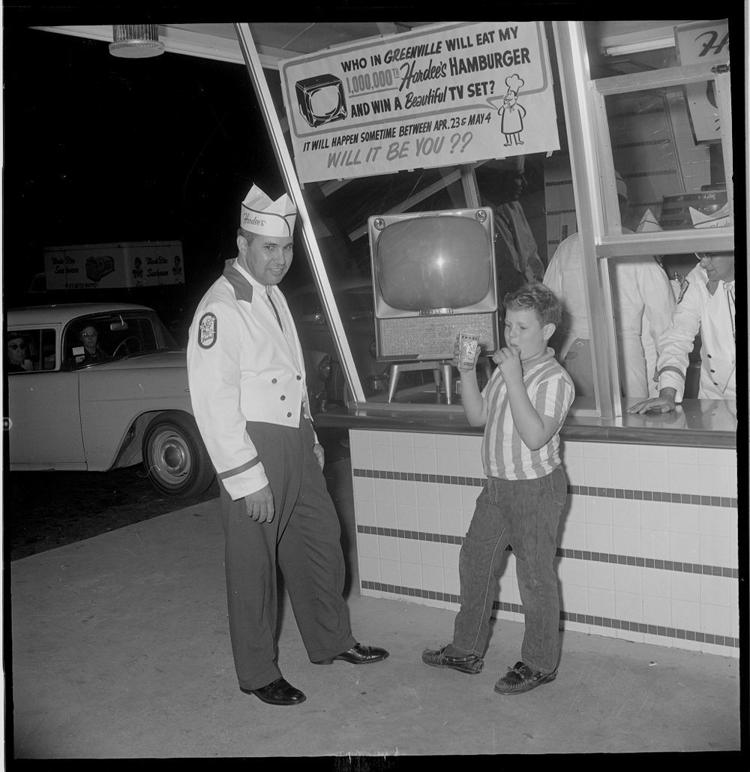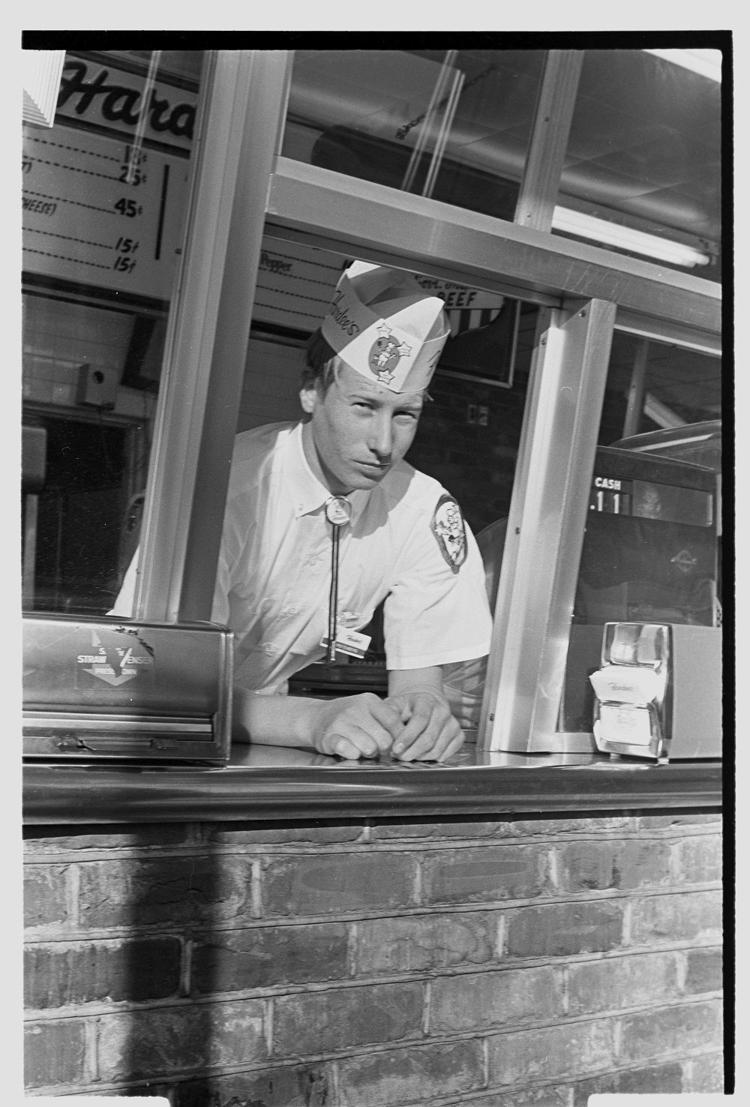 After a few months, the new burger joint's owner set out to open a second location in Rocky Mount. There, Hardee met accountant Leonard Rawls and Jim Gardner, son of a big Rocky Mount dairy owner who would become lieutenant governor. They suggested selling franchises, which they enthused could make them all rich. The three incorporated Hardee's Drive-Ins, each listed as a board member with equal votes, and the second location opened in 1961.
Hardee fell out with Rawls and Gardner almost immediately about subsequent written agreements and the fact that he was routinely outvoted by the two other men. Before long, he decided he wanted out, and he ended up selling his name to Rawls and Gardner for either $20,000 or $37,000, depending on which account you accept.
With Rawls and Gardner basically portraying themselves as the founders and their Rocky Mount location as the first Hardee's, Wilber went back to Greenville, where he experimented with other hot dog and hamburger concepts, eventually starting up an initially successful small chain of fast-food restaurants called "Little Mint." For a period, until that business began to falter, Hardee drove expensive cars and otherwise crafted a lavish existence, which began to include heavy drinking. His wife of 35 years died suddenly during this period, and by 1975, Hardee felt he had hit bottom.
Hardee's, meanwhile, continued to expand, even with Gardner soon leaving the venture to run for Congress and start other business ventures, until it became for a short time in 1987, the third-largest restaurant chain in America. By then, Hardee's was being run by Imasco, a Canadian company. The business was acquired by CKE of California, which also owned the Carl's Jr. chain, in 1997. CKE, now headquartered in Tennessee, presently owns around 1,800 Hardee's locations across the U.S. and in 14 foreign countries.
Even before Hardee split with Rawls and Gardner, the two Rocky Mount residents had begun pitching Hardee's franchises to just about everyone they knew, including two Rocky Mount brothers, Mayo and Nick Boddie. Mayo, who had dropped out of UNC, is reported to have said at first that there was no way to make money selling 15-cent burgers, and that he didn't want to get in the restaurant business anyhow.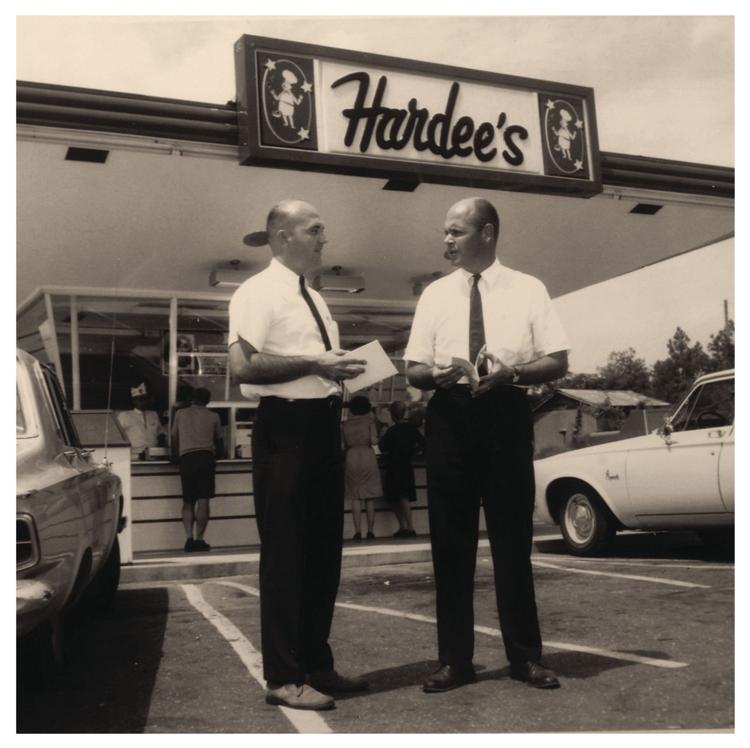 However, after the two Boddie brothers saw the lines forming at the new, second Hardee's location in Rocky Mount in 1961, they were sold. They partnered with their uncle, Carleton Noell, also of Rocky Mount, and bought five Hardee's franchises, paying $1,500 apiece. The Boddie-Noelle partnership opened its first Hardee's location in Fayetteville in 1962, on the road leading to the Fort Bragg army base.
That first Fayetteville restaurant obviously secured a prime location, and it was phenomenally successful. Boddie-Noell Enterprises was also fortunate in many of its other location choices — so much so that it quickly became the largest Hardee's franchisee in the country. Today, Boddie-Noell owns 380 Hardee's locations across the Carolinas, Virginia and eastern Kentucky.
Boddie-Noell also holds the lion's share of credit for kicking off the breakfast biscuit boom, not only at Hardee's but throughout the restaurant industry, as well as making a solid success of hand-breaded chicken tenders throughout all Hardee's restaurants. The chicken tenders concept originated within the chain of 27 Texas Steak House and Saloon locations operated by Boddie-Noell.
Boddie-Noell is still headquartered in Rocky Mount, where the late Mayo Boddie's two sons, Bill and Mike, serve as chairman and CEO and president, respectively.
Although Hardee's worldwide has grown a bit weaker as a corporate entity in recent years, with considerable turnover, decreased share of the fast food market and lower earnings, Boddie-Noell Enterprises has generally remained considerably more stable even while embracing a nimbler commitment to customer tastes and preferences in its various locations.
Speaking of his father, Mayo, CEO Bill Boddie said, "Dad and Uncle Nick tried to take care of the people, knowing that if they did, the people would take care of the company. Dad may have borrowed the words of our slogan, 'We believe in people,' from a sign he once saw on the wall at a car dealership, but he really put the concept into action."
President Mike Boddie added, "Other people in the industry are astounded at our longevity — just about all our people at the director level and up have been with us for more than 25 years. My father was entrepreneurial and good at seeing what people liked and sort of 'where the action was,' but he knew he needed a stable group of people backing him and Nick up: folks who would dive down into the details of how to make things happen in terms of distribution, equipment, financing and the like."
What about flexibility to accommodate customer preferences? Bill Boddie pointed out that whereas Hardee's corporate "sort of gave up" on bone-in fried chicken after a several-year experiment, more than 80 Boddie-Noell Hardee's locations still offer fried-chicken by the piece, along with the newer chicken tenders.
You might say the franchising giant considers its Hardee's locations as outlets for pretty much anything it wants to try.
Mayo Boddie didn't merely start Hardee's and the fast-food industry's breakfast biscuit business in the Tidewater area of Virginia. He also laid the groundwork for his sons Bill and Mike to establish a yearly biscuit-maker's certification process, to build "esprit de corps" among this segment of its location staff through distinct uniforms and to promote yearly biscuit-baking regional and grand championships.
"At first he didn't think there was any way someone was going to get up at 3 a.m. every day to make biscuits, but we soon found out that not only did a lot of women and men consider it an art, but they also like to get their work done and get off work by 11," Mike Boddie said.
The COVID-19 pandemic has obviously been a mixed bag for all fast-food enterprises, including Hardee's and Boddie-Noell. On the negative side, on-site and headquarters staff have all had to deal with staffing shortages growing out of contact tracing and quarantining. On the plus side of the ledger, COVID has vastly increased Boddie-Noell and Hardee's take-out business, in both volume and reputation, from around 60 to near 90 percent. It has also helped spur the growth of its delivery service with companies such as Door Dash — to the point that 280 of Boddie-Noell's 380 locations now deliver, covering all but the smallest geographic markets.
Along with every other aspect of existence, the worldwide fast-food industry has grown mind-numbingly intricate, even without the COVID-19 scourge. Bill Boddie solemnly observes, "Wilber Hardee and all the others would be blown away by the complexity of this business nowadays. Whether it's regulations, labor issues, health concerns or whatever – it's just so doggone hard to sell a cheeseburger."
Speaking of cheeseburgers, the mid-size Hardee's double cheeseburger (smaller than the 1/3-pound Thickburger line of sandwiches) is Mike Boddie's personal favorite.
"If I had to eat one thing from Hardee's every day for the rest of my life," he laughs, it would be the double cheeseburger — mainly because it's the easiest to handle going down the road."
Bill Boddie's personal go-to is the chicken tenders he helped adapt to Hardee's from the Boddie-Noell Texas Steakhouse and Saloon chain — although he is also fond of the mid-size, one-patty Famous Star burger.
Both men mentioned that they were particularly partial to the corporate-supported Frisco breakfast sandwich, which features toasted sourdough bread, thinly sliced ham, folded egg and both American and Swiss cheese.
Whatever happened to Wilber Hardee, the proprietor of that very first Hardee's in Greenville? In short, he continued to bounce from one restaurant concept to another, never really becoming solidly successful in a financial sense. However, after his low point in the mid-1970s, he met an evangelical Christian woman, who later became his second wife, stopped drinking, started attending church, was baptized and basically turned his life around. At the end of his final, less-than-successful restaurant venture, he and his wife started a gospel tract outreach.
At age 82, he was finally introduced at a Hardee's 40th-anniversary corporate gathering in California as the actual founder of Hardee's, having been gradually worked into the company's history for a number of years before that. He died in 2008 at age 89 — recognized but essentially unremunerated for his short-lived flash of inspiration.