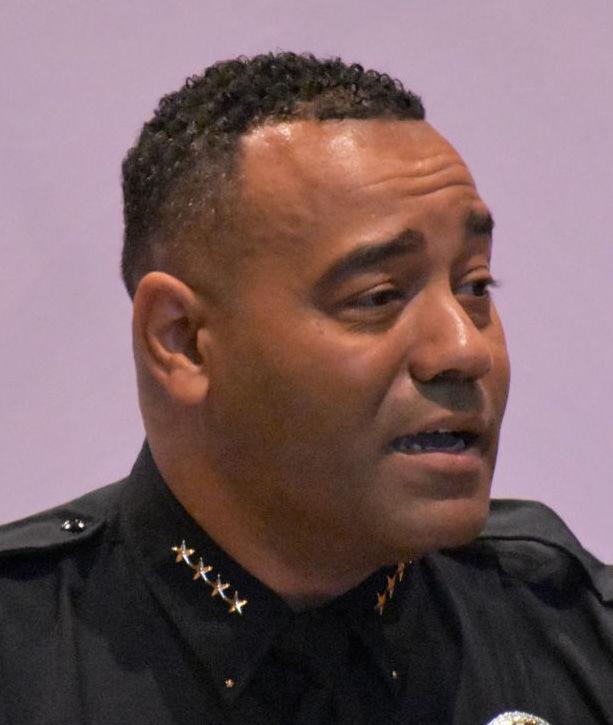 New Police Chief Robert Hassell recently appeared before a budget work session of the City Council and sought support for a proposed real time crime-fighting intelligence center, but he is going to go back, do more research and consult legal scholars.
Hassell faced questioning, particularly from Councilwoman Chris Miller and Councilmen Reuben Blackwell and Andre Knight.
The council before Hassell became the police chief on May 3 discussed having cameras to support present ShotSpotter technology. ShotSpotter is a system of sensors designed to detect, locate and alert the police of gunfire in real time.
During the June 2 budget work session, Hassell spoke about having a Fusus online platform for Rocky Mount as the best solution to meet the needs of the police department. Fusus is headquartered northeast of Atlanta and is in the business of unifying data and live video feeds into cloud-based crime-fighting centers.
A cloud-based system is one in which information is stored, managed and processed on a network of remote computer servers hosted on the internet, rather than on local servers or personal computers.
Hassell told the council having a Fusus platform for Rocky Mount would provide visibility via cameras not only managed by the municipality but also via the cameras of residents and businesses who give the police department access through partner agreements.
Hassell made clear to the council that participation in the platform by residents and businesses would be voluntary. Hassell also said that a community portal would be placed on the municipality's website so participants can register their cameras. The registry would be set up to ensure the names of the partners remain anonymous.
He said the platform would be managed by the police department and would be at the municipality's Emergency-911 call center.
He said there would be a series of phases to put the platform in place, with pre-planning first, followed by implementing the equipment, testing and an evaluation phase. He said if the platform passes the evaluation phase, then the police department will go live with the new system and the municipality will have cameras in the areas of ShotSpotter.
Miller raised questions about the proposal, particularly given that this is a time when everything seems to be hackable. Miller was referring to concerns about computer data being vulnerable to unauthorized access.
"What is the protection going to be that this system isn't hacked and the bad guys, so to speak, have access to the knowledge of where these resources are and where the crime is happening?" Miller said.
Miller said, "It's a double-edged sword," sort of like English essayist George Orwell's 1949 novel "Nineteen Eighty-Four," which focused on the character "Big Brother" controlling everyone's lives.
"I mean, it's a good thing that we know what the bad guys are doing, but the bad guys also know what the good guys are doing," Miller said.
Hassell told Miller that a Fusus platform has the appropriate security measures in place and that the cameras proposed to be installed in Rocky Mount to support ShotSpotter would be visible.
Hassell said that Fusus platforms are in use by the Forsyth County Sheriff's Office, the Winston-Salem Police Department and the Buncombe County Sheriff's Office in the far western part of the state.
Blackwell, in his questioning, made clear he believes the emphasis should be on the need to make the community comfortable.
"I know we need more eyes, but I'm very concerned about targeting communities and neighborhoods with unintended consequences," Blackwell said.
Blackwell said that while the objective is to reduce crime, "I've got an issue with cameras everywhere all over neighborhoods all the time."
"I'm concerned about a pre-approval of the technology before we've worked out the policies," he added. "I don't have any issue with saying 'reserve the funding,' but I do have an issue with pushing the button and say, 'Go live' and we haven't worked out our infrastructure prior to implementation."
He also said of the proposal, "It's sort of like we're building it and flying it simultaneously."
He made clear that he would first like to have more dialogue about some of the infrastructure involved and to know where there were any unintended consequences not thought about prior to implementation.
Hassell made clear that he would be happy to have a more in-depth discussion at a future council work session and that he knows Winston-Salem Police Chief Catrina Thompson quite well.
Blackwell also wanted to know whether video footage from the cameras of those who agree to participate in the platform for Rocky Mount would belong to those people or the police department.
Hassell said footage in connection with a criminal case would become evidence and would not be released until that case is completely disposed of in the judicial system.
Blackwell asked whether the decision to release video for public viewing becomes a decision of law enforcement.
Hassell said that would be the decision of District Attorney Robert Evans and that regarding evidence in a case, the release of that video would have to be through Evans' office. Hassell also said he and his team may have to look at some kind of an order from a judge to allow the release of that video to the public at that time.
Knight asked about a situation in which a camera at a residence of a person participating in the platform for Rocky Mount captured video of an incident across the street from that person's residence. Knight wanted to know whether that person would be restricted from releasing that video.
Hassell said that once that video has been determined to be a part of some kind of investigation, then that could pose some restrictions. At the same time, Hassell said that he does not want to say something that is not accurate and that he would have more information for a future work session.
Mayor Sandy Roberson said, "I've heard everything everybody said and I absolutely get it. It's crazy, scary, beneficial. I mean, it takes no vision to understand how this can be a two-edged sword, but I'm assuming two things."
Roberson said he is assuming everything of concern here is really dealt with in the contractual relationship with a person or a business choosing to participate in the platform.
Roberson also said he is assuming that the police department or the district attorney could subpoena all of his video security footage and that he would be bound by the same issues in dealing with the context of an investigation of a crime.
Hassell told Roberson he is correct in that Evans could order him to provide his footage, but Hassell noted that a resident participating in the platform for Rocky Mount would be able to control which specific cameras at a location he or she wants the police department to be linked to.
Blackwell was quick to state he is not concerned about access.
"It's control," Blackwell said.
Blackwell asked about whether a resident participating in the platform for Rocky Mount could take video from a private camera and post that video on a blog, without fear of being prosecuted, if he or she believes an injustice occurred based on what the video showed.
Hassell said he will have a conversation with some legal scholars and make sure he has better answers for the council about those concerns.
"I assure you some of those concerns are mine," Hassell said.
Assistant to the City Manager for Budget and Evaluation Kenneth Hunter told the council the cost of the proposed program for the fiscal year 2021-22, including the system of cameras supporting ShotSpotter, would be $122,272.
The council has been reviewing and discussing the proposed municipal operating budget for the fiscal year 2021-22.