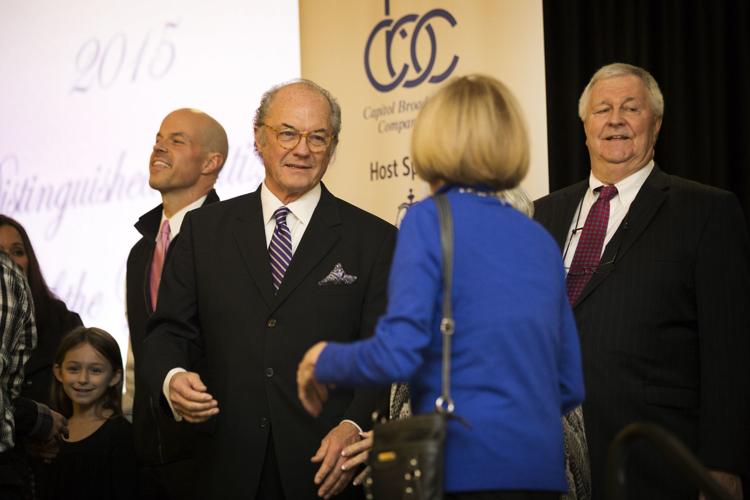 A local insurance agent who has served more than 12 years on the State Board of Transportation is not going to be seeking reappointment, this due to a state legislative re-organization of the panel that, in effect, is going to keep him from continuing to serve.
Gus Tulloss, 77, has been representing transportation Division 4, which includes Edgecombe and Nash counties. Tulloss over the weekend told the Telegram he gave word in recent days to Gov. Roy Cooper's team of his decision.
"Yes, I'm going to miss it, but everything sort of comes to an end," Tulloss said. "And I've had a wonderful experience."
The legislators decided to change the way the transportation board members are appointed, this after State Auditor Beth Wood and her team, in a report on May 5, said the transportation department spent beyond what the department planned.
In the past, the governor has appointed all 19 members to the board, with 14 board members each representing a division and five board members serving at large.
And three of the board members have been a member of a political party affiliation other than the governor's political party affiliation.
The change by the legislators increased the number of board members to 20, with the governor to appoint 14 to each represent a division and the legislators to appoint six to serve at large.
Of the six to serve at large, three are going to be recommended by the speaker of the House and three are going to be recommended by the president pro tempore of the Senate.
And another key change is none of the governor's appointees have to be from a political party opposite the one of which the governor is a member.
Because Tulloss is a Republican and Cooper is Democrat, Cooper is now free to select a Democrat to represent Division 4, which in addition to Edgecombe and Nash includes Wilson, Halifax, Wayne and Johnston counties.
And the new legislation said that the service of the present board members is going to expire on July 30 and that the service of the new board members is going to start the next day.
Tulloss told the Telegram he has learned much as a board member, namely that almost nothing happens the transportation department is not involved in.
Tulloss said they include fulfilling needs for constructing driveways and roads to new schools and constructing roads in and out of future subdivisions.
The transportation department, amid the economic impact of the Great Depression, began maintaining practically all routes in North Carolina.
The department operates with a roughly $4.7 billion budget and relies on fuel taxes to generate most of that budget to maintain more than 80,000 miles of routes.
Tulloss said, however, that the weather, including Hurricanes Matthew and Florence, have hit the transportation department's budget quite hard in more recent years.
And Tulloss noted the transportation department spent hundreds of millions of dollars on settlements with property owners, this after the judicial system ruled against a state law that had allowed the department to reserve land for future projects without, in effect, fair compensation.
Tulloss also said he believes the coronavirus pandemic has devastated the transportation department because motorists are not driving as much today, this already in a time when today's vehicles are more fuel efficient.
At the same time, Tulloss is leaving on a good note in Division 4.
Tulloss was heavily involved in securing state approval to shift the state Division of Motor Vehicles headquarters from Raleigh to the former Hardee's Food Systems building just on the Nash County side of the Nash County-Edgecombe County line.
And Tulloss speaks with pride about the completion of improvements and upgrades to Wesleyan Boulevard from May Drive just south of a replaced Sunset Avenue overpass to just south of the Benvenue Road interchange.
Tulloss was first appointed to the board in the earlier part of 2008 by then-Gov. Mike Easley, who is a Democrat.
Tulloss was reappointed by then-Gov. Beverly Perdue, who is a Democrat, and was reappointed by then-Gov. Pat McCrory, who is a Republican.
And Tulloss noted Cooper reappointed him earlier this year.
Cooper spokesman Ford Porter, in an email to the Telegram, said Tulloss has ably served under four different administrations and said Cooper appreciates Tulloss' dedication to North Carolina.
Porter said no decisions have been announced yet regarding appointees.
Department spokesman Andrew Barksdale emailed a statement to the Telegram saying, "Mr. Tulloss has well represented the communities of Division 4 for a dozen years.
"He has been a strong advocate for road improvements — and he has been a good ambassador for the N.C. Board of Transportation," the statement said.
Tulloss made clear he understands things are moving rapidly and said he wants this to be a win-win.
"He was kind enough to let me to stay on and then appointment me," Tulloss said of Cooper.
"And it's a good opportunity for him to put somebody new in that's from his party. It's a good opportunity for me to reflect back on what I've been involved in and what I want to do in the future," Tulloss said.