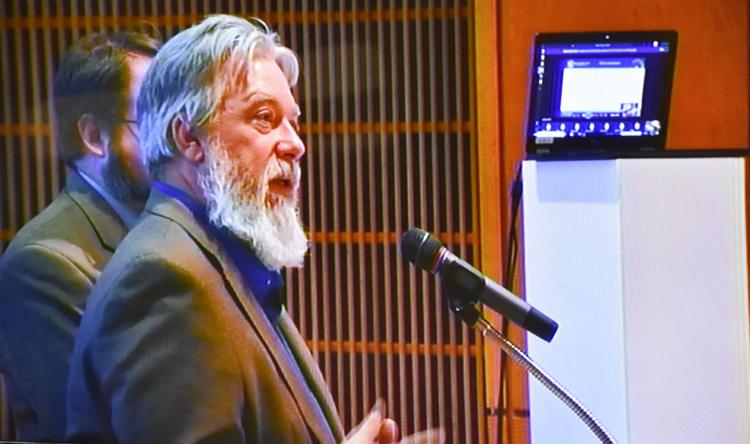 A City Council budget work session earlier this week included much back-and-forth about having the municipality broadcast council meetings live in the future, given the cost as now shown by an engineering study by a Research Triangle Region-based expert.
Steven Thorburn, of the Thorburn Associates acoustical consulting firm in Morrisville, and Dorothy Brown Smith, communications, marketing and public relations consultant for the City of Rocky Mount, on Monday fielded questions about a proposal that would cost $730,000 over two years.
Councilman Reuben Blackwell wanted to know if a complete redoing of the municipality's present system is the only path to broadcasting the council meetings live or if a new system could be phased in.
Thorburn said, "We're at a little bit of a loss here. We were under contract to develop this study just as COVID-19 hit. We've put together the best representation of what we've done for other cities, based on conversations with staff.
"Yes, there are ways to prioritize things, to look at them," Thorburn said. "I haven't been back in this room in three months. So we're really trying to get our feet underneath us to give you a plan to go forward."
At the same time, Thorburn said, "There are things we can go back and look at."
The proposal calls for spending $430,000 in fiscal year 2021, this to set up a system to broadcast meetings from the council chamber, with a significant amount of the cost being for production equipment.
The proposal calls for spending $300,000 in fiscal year 2022, with the focus being on having audio and video equipment installed in the nearby conference room.
The council had been conducting work sessions in that conference room prior to the spread of the coronavirus and the resulting social distancing requirements.
During the work session Monday, Councilman Lige Daughtridge pointed out that he and fellow new Councilman T.J. Walker looked at the upgraded broadcasting system in the Nash County Board of Commissioners room.
The Telegram has reported that the work there cost about $98,000.
During the work session on Monday, Daughtridge repeated his support for broadcasting City Council meetings live, but he said the proposed figure "just seems pricey to me."
Thorburn, in response, said to do live broadcasts with multiple cameras and switching equipment involves lots of parts that add up in terms of price.
Thorburn also said Greenville's government and Wake Forest's government spent roughly $450,000 each at their locations, with the work in Greenville being a remodeling and the work in Wake Forest being the installation of new equipment.
Thorburn said the roughly $450,000 amount would translate to a roughly $600,000 system today.
"Yes, it's an investment," he said, "but it's an investment that's going to last 15-20 years."
Smith emphasized the City of Rocky Mount would be starting from scratch due to the lack of infrastructure to do the quality broadcasting of council meetings the municipality is seeking to do.
"Right now, what we're doing is trying to ensure that our citizens get the information that they need, but we're really piece-mealing things," Smith said.
During the Jan. 13 council meeting, City Manager Rochelle Small-Toney announced she had assembled a committee, to be led by Smith, to study and recommend to her the staffing and capital costs needs associated with broadcasting the council meetings live.
Rocky Mount has remained a rarity for a city of such size in North Carolina in which one cannot view City Council meetings live on television.
After the spread of the coronavirus prohibited spectators from gathering in the chamber to watch the council conduct business, the municipality began providing live streaming video of council meetings via Facebook.
However, the audio at times has not been of good quality and there have been instances in which council members did not activate their microphones when speaking.
During the work session Monday, Blackwell said that while he agrees with the need to have upgraded systems and the need to do better, having the council meetings broadcast with such nice equipment is not his highest priority.
"We've been calling for years about newsletters related to what's taking place in our wards, about communication vehicles for individual council members and the mayor as well," Blackwell said. "This chamber is very important, but the work of City Hall occurs every single day — and it occurs in the street and it occurs in many different places."
Blackwell also said that the number of phone calls he receives from people asking about what is going on in the community are much greater than the calls he receives about what will be discussed at an upcoming council meeting.
Smith, in response, made clear that she and top-level officials know there is more than one way to reach all of the constituents.
"And if you might recall, we had done a study and had a full report on public relations and how we propose to reach out," Smith said.
Smith said the plan had been to present that information at the council's annual retreat, which was to be in Durham, but the retreat had to be canceled due to the pandemic.
Smith said that one of the items being looked at was exploring the possibility of developing an electronic newsletter system for each council member and Mayor Sandy Roberson.
Smith also said one item being worked on is having individual web pages for each council member and Roberson.
During the work session Monday, Blackwell also spoke of there having been previous talks about having some corridor studies conducted.
Blackwell questioned City Budget and Evaluation Manager Kenneth Hunter about whether a corridor study of Grand Avenue is in the proposed fiscal year 2021 budget documents and Hunter said no.
"It ties into our downtown and it ties together three, four wards," Blackwell said of Grand Avenue. "And that's important — and we've discussed it and I don't see it in the priority of the budget."
A corridor study specifies the relationships between a roadway and the adjacent land.
Small-Toney put on the to-do list the following items in working with the council: Getting the full scope of what Smith had just explained; studying the Grand Avenue corridor, as well as the Fairview Road corridor; and having a presentation about the downtown area to help prioritize what to fund there.
The to-do list also includes studying a possible purchase of Northgreen Country Club on the northwest side of Rocky Mount.
Councilwoman Chris Miller at a work session on May 28 said she would like the municipality to consider looking into possibly acquiring Northgreen Country Club, citing a concern about a decline in the values of adjacent properties and in future property tax revenues.