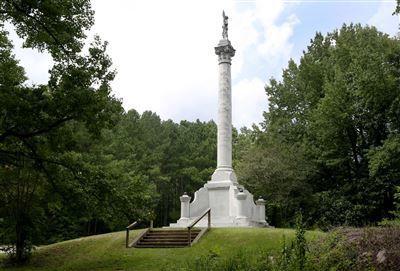 The City Council near the end of a work session on Tuesday voted 6-1 to remove the Confederate monument that dates back to 1917 and is located on the northwest side of Rocky Mount.
Councilman Reuben Blackwell made the motion, seconded by Councilman Richard Joyner, for the action. Councilman Lige Daughtridge, Councilman Andre Knight, Councilwoman Chris Miller and Councilman T.J. Walker voted yes, while Councilman W.B. Bullock voted no.
Blackwell's motion calls for removing the monument from the current location to a place for safekeeping, this from any destruction or vandalism and until there is a determination at a later time about a suitable private location.
The monument is just south of the interchange with U.S. 64 and Benvenue Road and just south of the vehicle entrance to Battle Park.
The monument is in the council ward represented by Blackwell, who said there are neighborhoods right around the monument subject to vandalism and strife.
Blackwell said he does not believe anybody wants this, but he also said what he does not want is to continue to feel the way he does when he drives down Benvenue Road.
"I don't even want to go to the park, because I don't want to look at it," Blackwell said of the monument.
"It's something that memorializes murder to me and to people who look like me, rape to me and who look like me and economic subjugation to me and people who look like me," Blackwell said.
Later in the discussion, Blackwell added, "My only desire to move the statue in a manner that can be preserved for folks to be able to look at it in a place they want to is because I'm trying to be bigger than the people who put it up, who did not care about what I felt or people who look like me or anything related to my journey.
"So if we want to keep it up there and somebody pulls it down, I will not shed one tear, not one tear," Blackwell said.
Walker, who was sworn into office in December and participated in the work session on Tuesday via speakerphone, said he is speaking on behalf of his generation, which presently is leading protests worldwide.
Walker said he and his generation have seen the anger, not just of African Americans, but also of whites and Latinos and other races.
Walker said there are those in his generation who are displeased with the wrongful doings of racists and white supremacists and all types of unjust policies and procedures from the U.S. government and law enforcement.
Walker, while making clear he cannot speak for his generation, said of the Confederate monument, "If we don't move it, they will take it down — and that's the bottom line."
The monument has been discussed before in the past.
Miller, like Walker, was participating in the work session on Tuesday via speakerphone.
Miller spoke of her recollection of previous long discussions with City Attorney Jep Rose and of reports of what the General Assembly has ruled.
Miller said the monument is on a separate, private piece of land and that the legislature prohibits the removal of historic statues.
Miller said she was not saying this to say the municipality should not do anything, but that she was just saying those were the two takeaways from all of those discussions.
Miller said she believes that if the municipality could get officials of a Confederate cemetery somewhere to take the monument, then she does not believe supporters of the monument would object.
Rose was not present for the work session on Tuesday.
Bullock said the municipality went through this roughly five or six times and did not come up with a solution.
"We need to get on the right legal side so we won't get ourselves in a bind," Bullock said. "I think we need to at least take a few days or a week or so — and try to find out what we can do and what we can't do."
Daughtridge, who was sworn into office in December, like Bullock expressed concern about the legality of such an action.
At the same time, Daughtridge said, "I am not going to sit here and say that I can understand where people of color, black people, come from when they see that, because I understand that I cannot put myself in the shoes of people of color.
"I get that and I understand that that's in a prominent place in our city — and I've heard everything that you say and I don't disagree," Daughtridge said, although he remained concerned about the legality.
Knight, who was chairing the work session in his capacity as mayor pro tem, said, "Attorney Rose had 2½ years to make a call on this — and let's separate right from legal."
The discussion and the vote came near the end of a second day of council work sessions to prepare the fiscal year 2021 budget. The vote also came about two days after a peaceful protest of the recent death of George Floyd was held at the Confederate monument, led in significant part by Blackwell's son, Cooper Blackwell.
During the work session on Tuesday, City Budget and Evaluation Manager Kenneth Hunter was speaking about and fielding questions about parks and recreation items in the proposed fiscal year 2021 budget.
During the work session on Monday, Hunter said the municipality is proposing to allocate $100,000, this for a matching grant for Battle Park, which is the scene of planned future improvements and upgrades.
Knight said he believes the municipality should not allocate any future money for Battle Park "until we as a council address the Confederate statue, in light of what's happening all across this country and in close proximity to us in Raleigh, Greenville and Wilson."
Knight said, "Let not courage skip this generation, which is the seven of us and the mayor, but we act in a proactive way that we can show our citizens, constituents, the Twin County area and all of North Carolina and the world that we understand what this means and how it casts a cloud over that beautiful park in this beautiful city."