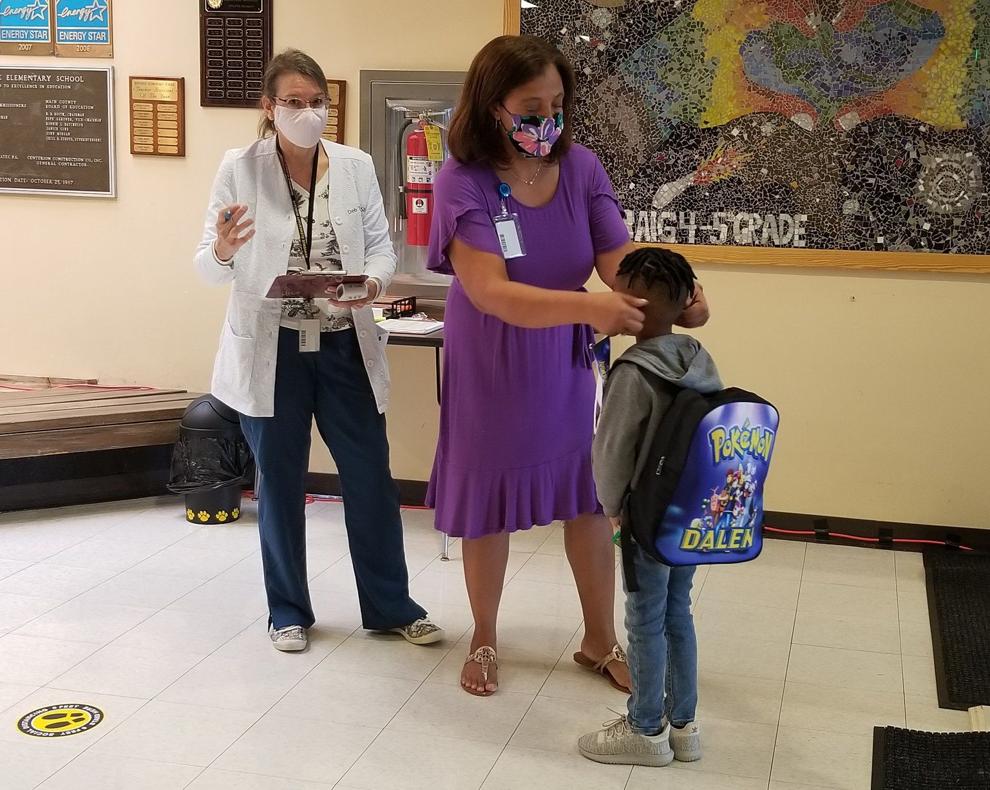 Students in Nash County Public Schools will be returning to the classroom Monday as planned, but not all school board members are in favor of the idea.
The issue was discussed but not voted on Tuesday at a special called meeting. The matter was presented for information, but several school board members had plenty to say about the staff decision to continue with the plan approved by school board members at the beginning of January.
Superintendent Steve Ellis began the meeting by presenting information in support of returning students to the classroom on Monday under a Plan B blended format. For middle and high school students, this will be their first opportunity to attend class in person this year.
"The ABC Science Collaborative that we are a member of came out with some statistics that I thought were promising for kids to return to schools," Ellis said.
According to a study of 11 North Carolina school districts that opened under Plan B at the beginning of the school year, more than 90,000 students and staff attended school in person for the first nine weeks of instruction. During that study, no instances of child-to-adult transmission were reported in the schools, Ellis said.
"What that tells us is that most of the time when students are in schools, we are doing what we need to be doing to keep those kids safe," Ellis said.
The study also showed that the rate of transmission of COVID-19 in those school districts was less than it was in the surrounding communities, Ellis said.
Assistant Superintendent of Student Support Services and Operations Leondus Farrow Jr. shared current positivity rates with school board members. According to the figures he presented, the positivity rate was 10.8 percent in Nash County on Dec. 18 before the Christmas break. On Jan. 8, about the time schools originally were set to open to in-person instruction, the rate had climbed to 13.2 percent. The rate was 13.1 percent as of Jan. 15, he said.
Edgecombe County has shown a similar pattern, though the numbers are not as high. On Dec. 18, 2020, the positivity rate in Edgecombe County was 9.1 percent, Farrow said. By Jan. 15, that number was 11 percent.
Ellis said the school district also is now measuring staffing metrics to help determine if schools are above 75 percent capacity. This information can help determine whether classrooms, halls or schools need to close to in-person instruction, Ellis said. As of now, D.S. Johnson Elementary School is the only school now in danger under that metric.
Sheila Wallace, executive director of human resources and federal programs for the school district, said that D.S. Johnson has had staffing issues because of COVID for quite a while but has managed to find ways to provide instruction through virtual instruction with the help of teaching assistants in the classrooms.
"Middle schools and high schools don't have the luxury of having as many TAs because they are assigned to the elementary schools," Wallace said.
School board member Evelyn Bulluck said she wanted the record to show that she is not in favor of reopening on Monday. She expressed concerns over students returning to the classroom with the current county metrics and asked if the staff had looked at what neighboring counties are doing about returning to the classroom.
"Some are remaining in Plan C and some are moving to Plan B," Ellis said. "But when I look school to school and see that most of the schools are almost fully staffed, to me it seems that this is a time that we could try to move to Plan B. I think that gives parents options. If you don't want to send your child back to school, you don't have to send your child back to school."
School board member LaShawnda Washington said she is concerned about the county metrics.
"The metrics already look bad," she said. "We also need to think about our teachers. There are teachers who are not ready to (go) back into the building."
Ellis said he feels the need to forge ahead because it is better for the education of students.
"We had these concerns before the elementary schools opened up and they seem to be working it out," Ellis said. "A lot of this is just fear of the unknown. Until we try something, I don't know how we get over that hurdle. When I look at the elementary school results, their failure rate is much lower than middle and high school, and I know that is because we have had direct instruction from teachers."
School board member Reginald Silver also said that he feels the date to return to classrooms should be pushed back further for the safety of students.
School board Chairman Franklin Lamm said that most of the feedback he has had from families has favored returning to school.
"I think it is time to get the middle and high school students back," Lamm said. "The parents have a clear option as to whether they want to return to school."
School board member Dean Edwards said that as a parent of students in the district, he is heartily in favor of returning to school as planned.
"There are a lot of people who do want the students to return to school," Edwards said. "I couldn't believe how happy and delighted my kids were to return to school."
Board Vice Chairman Bill Sharpe, who saved his comments for last, said he has deep reservations about students returning in person.
"I am not so much concerned for the kids as I am the parents and families they go back to," he said. "I know we have the vaccine, but it is going slow. The way I would say it is that if parents don't feel comfortable sending their children to school, they need to keep them home and the school district will figure out how to teach them virtually. The way to fix this is to push the Department of Health and the state to vaccinate our teachers. It needs to be a higher priority that our teachers be vaccinated."
Ellis said that teachers were supposed to be in the next group.
"The state then opened it up to people 65 or older, so that bumped us down," Ellis said.