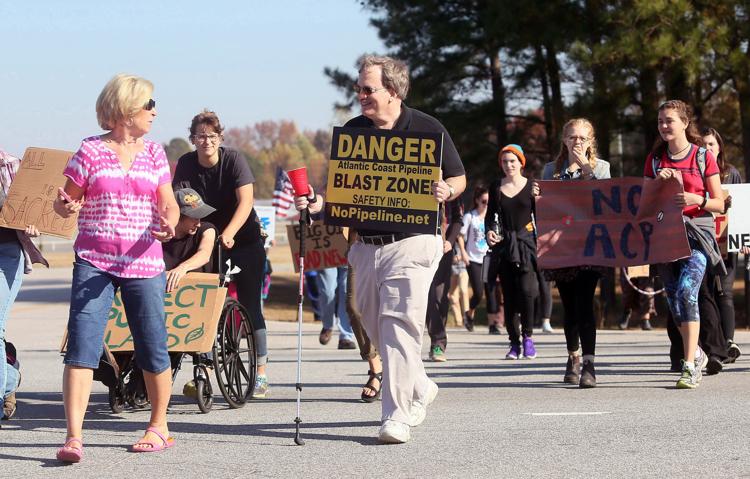 Marvin Winstead is quite a happy man right now.
That is because Winstead on Sunday afternoon quickly found out Dominion Energy and Duke Energy jointly announced the intention to call off the approximately $8 billion Atlantic Coast Pipeline project, citing increasing costs and ongoing battles in the judicial system.
Winstead on Monday told the Telegram of having been against the pipeline since day one.
And Winstead told of having to spend so much time fighting the project he entrusted, via a lease, the operations of his farm in central Nash County to a neighbor.
In speaking of day one, Winstead was referring to having received a letter in May 2014 notifying him of a proposal to cross his approximately 70-acre farm as part of a future route to pipe natural gas some 600 miles from West Virginia to North Carolina via Virginia.
And Winstead noted as late as last week, announcements were being sent out by the two utility giants saying they would be moving forward with the project, this given a 7-2 ruling on June 15 by the U.S. Supreme Court.
The ruling allowed part of the pipeline to be constructed under part of the scenic Appalachian Trail.
"And then, of course, yesterday (Sunday), the abrupt about face in announcing that the pipeline was canceled was the best news I've had in six years," Winstead said.
"My farm is safe, but everybody else benefits from this decision, too," Winstead said. "The companies are finally doing the right thing."
Winstead is a member of the non-profit regional Blue Ridge Environmental Defense League and he also is a leader of what is called Nash Stop the Pipeline.
Winstead expressed appreciation to the league, along with other fellow activists and groups.
Winstead told of being contacted on Sunday by a person with the league, Therese Vick, about the news of the cancellation of the project.
Winstead told of asking Vick in response, "Are you sure about what you're saying?"
"I wanted to double check," Winstead said. "I was pleasantly surprised to hear that they had made the announcement."
Additionally, Winstead noted one might notice the announcement was made on a holiday weekend when the attention of many was going to be focused on other things.
Winstead, who himself has legal action pending as part of his opposition to the project, told the Telegram he believes the pipeline was unnecessary.
"It was not going to increase natural gas supplies to the area," Winstead said. "It was just going to be a different source of supply."
And Winstead made clear he believes renewable sources of energy, such as solar power, wind power and battery systems, have made much progress in meeting the needs of the power grid and at less cost than in the past.
"So the companies need to really get on board with the renewables and work toward all of us having clean, renewable energy as our source of energy," Winstead said.
Winstead also was quick to respond when the Telegram asked him about the subject of the Atlantic Coast Pipeline project in context of the economy and jobs.
Winstead said "talking points" from proponents of the project included that the pipeline was going to make up for what was lost as a result of the closures of textile mills and the decline of the tobacco industry.
"They never substantiated those claims," Winstead said. "They never proved them statistically. They never had any research studies that proved that."
As for what is next for Winstead, he told the Telegram he is going to be able to tend to his farm again.
"I will be making plans next year," Winstead said. "I'll be in the tractor seat and not my neighbor."
Not everyone had the same reaction as Winstead about what happened on Sunday, however.
Earlier on Monday, Carolinas Gateway Partnership President and CEO Norris Tolson told the Telegram of being disappointed of there not being the additional infrastructure requirement many companies need.
Tolson said he understands Dominion and Duke having faced a prolonged legal battle to overcome the objections of the environmental community, which he said drove up the costs of the project.
Tolson also said apparently Dominion and Duke were concerned about further legal battles ahead.
"And so, at some point, economic sanity prevailed and they said, 'Look, being good stockholder companies, we've got to be sensitive about our shareholders. And so we're going to pull back. We're going to drop this project at this point,'" Tolson said.
Tolson also said of what happened on Sunday, "We're disappointed about that because I think it is a significant issue for all of rural North Carolina, especially eastern North Carolina, to not have access to a sort of unlimited supply of natural gas."
Rocky Mount Area Chamber of Commerce President and CEO David Farris on Monday told the Telegram his organization is both disappointed and saddened.
Farris, while making clear his organization is sensitive to the environmental needs in the Twin Counties, said he believes there are going to be other opportunities for the area in terms of energy beyond the Atlantic Coast Pipeline.
"I don't think we've ever felt like we would live or die with the pipeline," Farris said. "It certainly seemed like it was going to be or play a major role in economic development.
"But, like in life, a lot of things don't work out quite like we would like them to — and maybe it's for a reason," Farris said.