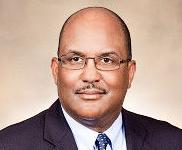 The City Council and the viewing public recently got the chance to find out the results of local efforts to gather data for Census 2020.
City Human Relations Director Archie Jones and his staff were tasked with making sure Rocky Mount's households were properly counted. Jones gave an update during the Dec. 14 council work session.
Much was at stake in 2020 because the census is key in providing the basis for reapportioning congressional seats, redistricting and distributing more than $675 billion in federal funds annually to support states, counties and communities' vital programs.
During the work session, Jones provided information about the self-response rates — that is, the percentages of households responding to fill out census forms on their own.
Jones showed that, as of Oct. 16, the day after the end of gathering data in the field, Rocky Mount's self-response rate was 62.6 percent compared to 63.4 percent statewide and 67 percent nationally.
Tarboro's self-response rate was 66.2 percent, while Nash County's was 65.6 percent, Wilson's was 62.8 percent and Edgecombe County's was 58.7 percent.
Jones noted that since Oct. 16 and with data continuing to be processed, Rocky Mount's self-response rate has increased to 62.7 percent.
Jones showed what he called the hard-to-count census tracts on the Edgecombe County and Nash County sides of Rocky Mount.
A tract is a statistical subdivision of a county or an equivalent entity.
Of the hard-to-count tracts locally, as of Oct. 16, the one with the lowest self-response rate was on the Nash County side and included the Villa Place, Happy Hill and Falls Road areas. That tract had a self-response rate of 47.3 percent.
Also on the Nash County side, a tract including the South Rocky Mount, Kingston Avenue, Powell Drive and Kinchen Drive areas had a self-response rate of 52.9 percent and a tract including the Gold Rock Road North, Cross Creek and Peele Road areas had a self-response rate of 53.5 percent.
On the Edgecombe County side, a tract including the Holly Street, Hillsdale and Springfield-Leggett Road areas had a self-response rate of 56.1 percent and a tract including the Southeast Rocky Mount, Around the "Y," Berkshire and Brown Acres areas had a self-response rate of 56.1 percent, as did a tract including the Mobile City mobile home Park, Old Battleboro Road and Battleboro areas.
Also on the Edgecombe County side, a tract including the Down East, Edgemont and Meadowbrook areas had a self-response rate of 59.7 percent.
Jones made clear that going in, the tracts he showed as having low response rates during Census 2020 had posed challenges based on Census 2010.
"And so, as this thing kicked off, it proved to be the same," Jones said.
Jones said the tract including the Villa Place, Happy Hill and Falls Road area has been "a mystery."
Jones made clear that tract had something in common with the other tracts with lower self-response rates: They have more older neighborhoods lacking advantages in technology, namely access to the internet, when compared to other neighborhoods.
During his presentation, Jones extended a list of appreciations for the local efforts.
The list included the community outreach team, led by former Councilwoman Lois Watkins as the community outreach coordinator, and Theresa Stokes and Michele Cruz as community outreach specialists who also helped connect with the Hispanic community.
The list also included the city's Communications, Marketing and Public Relations Department for remaining consistent in getting the word out about Census 2020 in the face of the coronavirus pandemic.
Jones also showed a long list of community partners to whom he also expressed appreciation.
Councilman Richard Joyner wanted to know what the city will do on an ongoing basis to try to activate some of the communities whose self-response rate came out quite low so that the city will not have to keep going back and doing the same things every time to get responses.
Jones said he saw first-hand an assumption that everyone has the same ability or access to technology, but he said that just because everybody has a cell phone does not mean they have the same capability as someone else.
"So as we continue to work in these neighborhoods, with our neighborhood organizations, we've got to continue to continuously educate them and inform them of the importance of this," Jones said.
Jones said a lot of people who had not responded thought that because they did not respond by April 1, there was no need to fill out the census forms.
Jones was referring to April 1 having been "Census Day," when in fact, a person could complete his or her phone, mail or online census response after that day.
"So we're just re-educating now," Jones said. "And then a lot of them had challenges because they have a phone, but they didn't have the necessary data on their phone to actually go through that process."
Jones later emphasized that part-time census workers, relying on past data, were able to identify non-responsive households, go to those households and make sure those households' forms were filled out.
Jones and his team received praise from Councilmen Andre Knight and Reuben Blackwell.
"You all really did a great job considering the uphill battle you had to fight," Blackwell told Jones. "For all of us, hopefully, we will all have broadband on our agenda to advocate for."
Blackwell also made clear he believes North Carolinians having more fair access to high-speed internet will be a major issue at the General Assembly and for Gov. Roy Cooper in 2021.
Blackwell said the city missed having a legislative agenda in 2020 and noted the spread of the coronavirus pandemic occupied everybody's time.
Still, Blackwell made clear that of the lack of high-speed internet in places, "You'd be amazed at how difficult it is to connect and stay connected and have affordable data plans that people have access to."