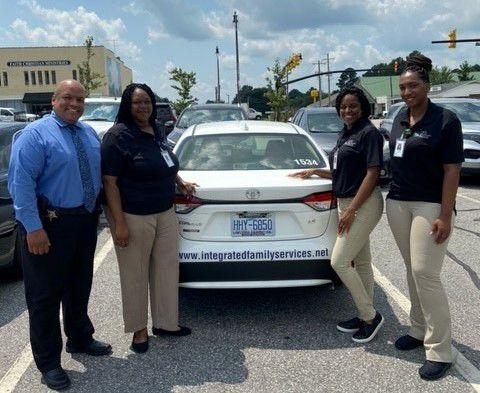 The Nash County Sheriff's Office in collaboration with Integrated Family Services PLLC recently unveiled a new Co-Responder Outreach Specialist program, the first of its kind in the state.
The Co-Responder Outreach Specialist program is a criminal justice diversion model in which Nash County Sheriff's Office personnel are paired with mental health professionals with the goal to intervene and respond to assist people who fall outside of normal criminal actions.
"We were looking at new ways to interact with the community and an opportunity came forward through Trillium, which is the mental health care organization in the area," Nash County Chief Deputy Brandon Medina said. "They had indicated that there were some grant funds available, so we applied for those."
Coordinating with Trillium's Integrated Family Services allows deputies to have access to another resource when dealing with people who have mental health issues, developmental disabilities, drug problems or traumatic brain injuries that interfere with their ability to think clearly for themselves, Medina said.
The Co-Responder Outreach Specialist model involves a qualified mental health professional being embedded in the sheriff's office. These individuals will co-respond to community locations after being dispatched by officers.
"As long as people are nonviolent when the deputies get to the scene and the situation falls into one of those four categories, we can contact Integrated Family Services. A qualified mental health professional will go to the scene and get consent from the individuals before treatment. They will do an assessment and evaluate the needs before directing the patients to the proper agencies or resources," Medina said.
The planning at the end of the encounter depends on several unique factors, and outcomes can range from leaving the individual with necessary resources, providing education about the behavioral health system, transporting the individual to a hospital or walk-in clinic or providing support and resources for family members and others at the scene.
The Co-Responder Outreach Specialist program also will follow up with individuals after they leave the initial encounter to ensure that all identified needs are addressed, according to a statement from the Nash County Sheriff's Office.
"We are truly excited to see the Co-Responder Outreach Specialist program come to our community and to partner with Integrated Family Services," Medina said. "This program will connect citizens with integral services. With this program, our deputies will be able to clear from certain calls and return to service to conduct proactive policing or respond to other calls."
Medina said that the coordinated effort not only benefits people by connecting them to the help they need but also helps them avoid arrest and time in a detention center that is already crowded.
Natasha Holley, clinical director of Integrated Family Services, said the goal of the program is to improve outcomes.
"The goal of the Co-Responder Outreach Specialist program is to ultimately increase service access to individuals in need of behavioral health services in Nash County," she said. "This service, which is funded by Trillium Health Resources for its members, will provide an opportunity for law enforcement officers and mental health professionals to collaborate in a community response to better serve individuals with behavioral health issues."
The other part of the program involves training deputies and detention officers in Mobile Crisis Training, Medina said.
"An average person would see a combative person or somebody who went through this training would see that they need some time for intervention," Medina said.
Most of the deputies dealing with the public already had this type of training before the new Co-Responder Outreach Specialist program officially launched, Medina said.
Though some of these concepts have been part of the national discussion of some recent "defunding the police" conversations focused on redirecting community resources, Medina said this collaborative program has been in the works for some time.
"This is something we had thought about way before the COVID situation," he said.
The grant funding for the program is initially for one year. However, Medina said the grant may be renewed if it proves to be beneficial.
"We are tracking data and outcomes for the program this year," he said. "We are already seeing results, and I think the effort will justify the sustainability of the program."