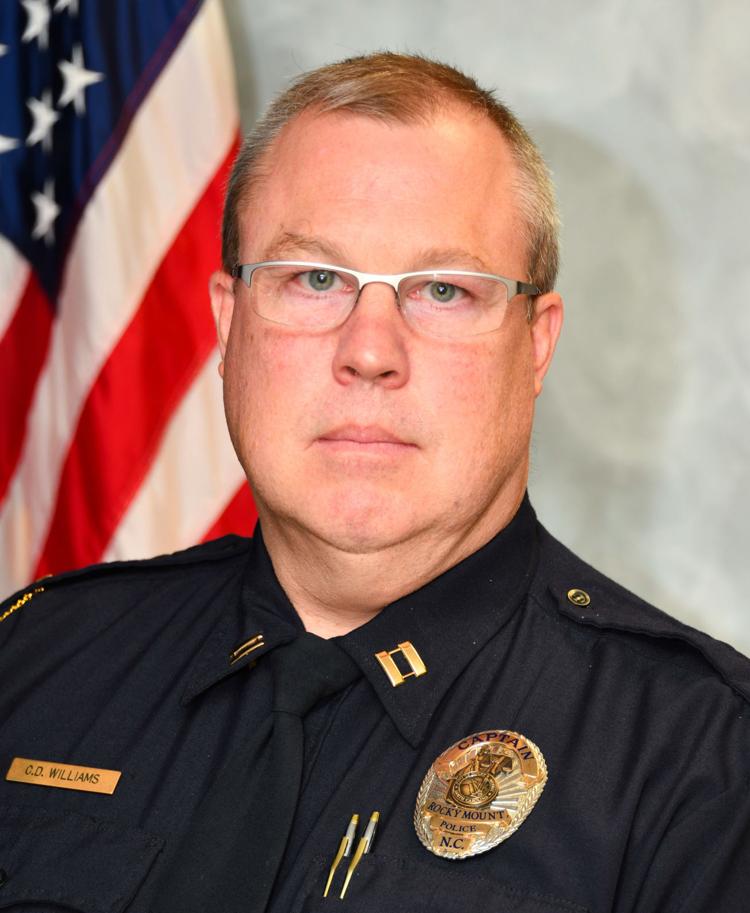 City Councilman Lige Daughtridge during a council work session asked interim police Chief Charles Williams where the city stands regarding the number of vacancies in the police department.
Williams said there are about 20 right now and what followed his response were more questions and a discussion.
Daughtridge wanted to know whether the number is consistent throughout the year or whether there has been an increase in vacancies.
Williams told Daughtridge he would have to do additional research and would be glad to provide more specific information later, but he said the number is what the police department is seeing in terms of a common trend in law enforcement.
Daughtridge asked the questions after Williams, as part of the council's work session on Monday, provided the council with a report about crime in December.
During the work session, Daughtridge wanted to know whether the compensation has anything to do with or plays into the number of vacancies at Rocky Mount's police department.
Williams said he and City Manager Rochelle Small-Toney discussed that topic a week prior.
Small-Toney said she spoke with Williams, as well as with former chief and soon-to-be-returning as interim Chief George Robinson, to get a sense of whether the city is behind in some way.
Small-Toney told the council, "The good news is we're not."
Small-Toney said what was learned is that because a sheriff can on the spot give someone a position coming out of a police academy as opposed to the person going through the city's processes, that can be challenging for Rocky Mount's police department.
Small-Toney made clear she believes in a very short time those people will migrate to the city.
"So there is a shell game, if you will, that is played — but there is nothing about our compensation package that causes us to be overly concerned about people leaving the organization," Small-Toney said.
Small-Toney said the city may be challenged because the city cannot, due to high costs to the municipality, provide every police officer a car to and from his or her residence.
"But for the most part, it's not an issue that is keeping us from recruiting and retaining people," Small-Toney said.
"I think, really, it's the environment of law enforcement these days," Small-Toney said. "It may not be the most attractive profession at the moment.
"However, we're hoping that the biggest, best and brightest recruits are coming through our processes," Small-Toney said. "And I think very soon we'll be able to put some of those academy participants actually on the street."
Councilman Andre Knight made clear he sees this not as a matter of pay, but instead as a challenge of finding police officers who live in the community as opposed to having police officers commuting in to Rocky Mount.
Knight said he believes information from a couple of years ago showed that maybe less than 30 percent of Rocky Mount's police officers lived in the city.
Knight made clear he wants an emphasis on trying to find home-grown police officers to serve on Rocky Mount's police force.
Councilman T.J. Walker said he believes that would provide an opportunity to see if there is room for some community-based residential opportunities for police officers or any type of incentives for police officers willing to live in the city.
Daughtridge said that while he agrees with Knight, he checked to see what the City of Wilson pays and said the City of Rocky Mount is anywhere from 8 percent to 15 percent behind on the midpoint.
Knight asked Williams whether Rocky Mount police officers are leaving to join Wilson's police force.
Williams said only one recently did so that he knows of.
Knight said, "OK, that's what I thought. Thank you."
Small-Toney also said the City of Rocky Mount recruits people from Wilson and other surrounding communities.
"So there are a variety of reasons, I suppose, why people (are) ending up working where it is that they work," Small-Toney said.
Following up on Walker's remarks, Small-Toney told Williams she believes housing-based incentives are offered to Rocky Mount police officers who live in the city and perhaps even in certain neighborhoods.
Williams said there are apartment complexes in Rocky Mount offering police officers a discounted rental rate in exchange for those police officers providing general security at those respective complexes.
Williams noted there has been a program in which houses are provided as residences to ensure police officers live in them to help provide community-based policing.
Williams also noted that Small-Toney has referred to having plans for future housing available for first responders and teachers.
"So I know we are headed in that direction, same line of thinking," Williams said.