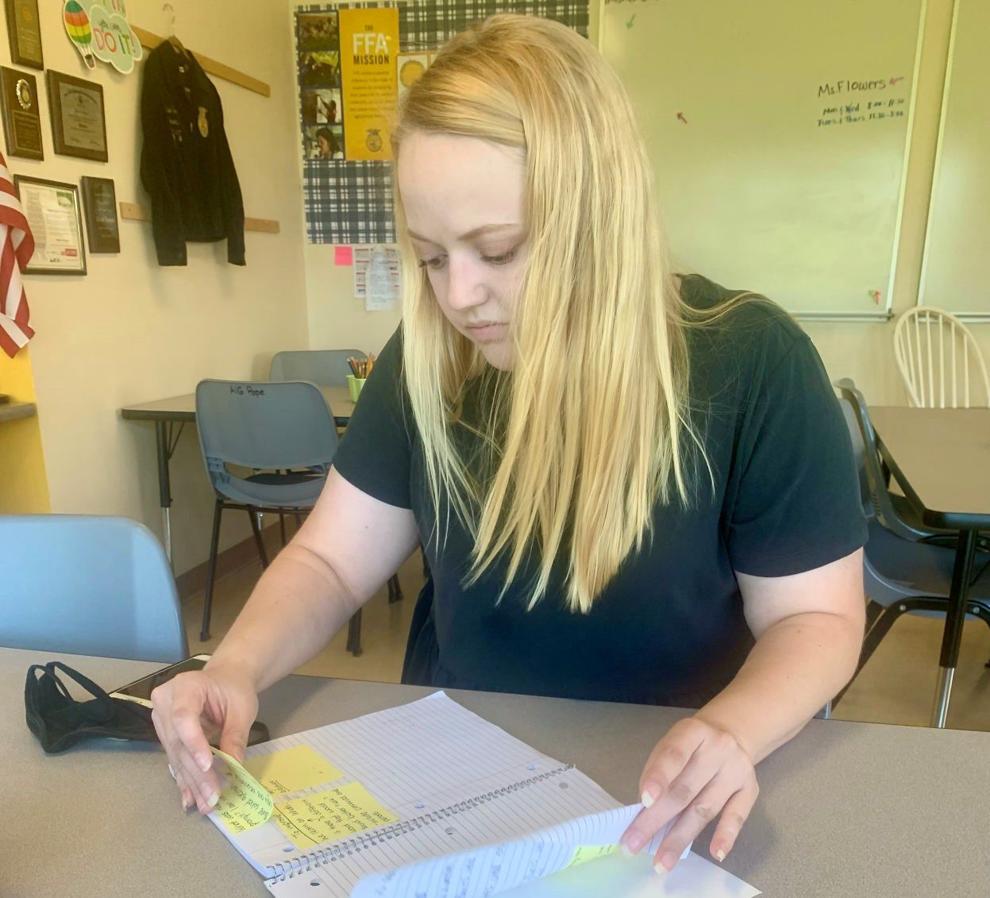 TARBORO — Mikayla Thompson remembers her days as a student at North East Carolina Prep School.
"I had so much respect for the teachers," she recalled during a recent early morning interview in her classroom at the school. "Now I get to work with them."
Thompson, who grew up in Whitakers and attended school in Greenville until she finished eighth grade, was a member of the school's first graduating class in 2017.
Now she is a first-year teacher at her alma mater.
"It feels wonderful to be back," she said with a wide smile on her face. "I was never in this building … but it is so good to be back."
The building is the elementary school building where the school's administrative offices are housed. She pointed out that she attended classes in the school's still new-at-the-time two-story high school building.
It is now home to Thompson's classroom and the place where she interacts with her students.
"I'm really excited about teaching … about being able to give back," she said. "My mom works in Greenville, so I would ride with her and went to grades K through eight in Greenville. I knew about Tarboro, and I begged my mom to let me stay in Tarboro."
So with her father's business based in Tarboro, she was able to transition from Greenville to Tarboro for her classes.
"So even though I only went to school here from grades nine through 12, it feels like home," she said.
Thompson said she really had no idea what she wanted to do for a career.
"I think I always wanted to be a teacher, but I just didn't know what," she said. "When we started agriculture, I decided that's what I wanted to do."
Thompson said she looked at the three schools in North Carolina that offered agriculture programs — the University of Mount Olive, N.C. A&T University and N.C. State University — and decided on N.C. State, where her dad went to school.
"So I applied to N.C. State but didn't have the grades to get in," she said. "I thought my world was ending. I went out to (Edgecombe Community College) and got serious and got the work I needed … applied again to N.C. State and was accepted the second time."
Now, Thompson has students ranging from kindergarten through seventh grade whom she works with in the 14 different classes she teaches.
"That's a wide (age) range and it is sometimes a challenge to keep them occupied, so I use topics that they can associate with and get them to interact," she said.
Student interaction in class is something Thompson said came out of her own learning experience with former prep school teacher Robert Henderson.
"Mr. Henderson was my inspiration. He always played devil's advocate and got me to ask more in-depth questions," she said.
Thompson's students have notebooks in which they answer questions about a particular topic — as well as the subsequent questions that follow to get them to dig ever deeper into the subject.
"I put sticky notes by what they've written," Thompson said. "They like them because they get feedback. It helps them think of things they know but were in the back of their mind."
Thompson said her goal is for all of her sixth- and seventh-grade students to create a project that they can take to competition in the science fair.
She understands that competition can be healthy and recalls her FFA days when she competed in the program's Agriscience Fair.
"I did a project on aerial spray drift," she said. "I placed second in the 11th grade and in the 12th grade, I finished first in North Carolina and third in the nation."
And it's topics like the drift of pesticides that her students are discussing.
"We talk about the impact on others and other crops and what we might look to do differently," she said. "Things like growing more organic crops but still incorporating pesticides in the crop management plan."
The school's FFA program had such an effect on her that she said that after she graduated, she would come back to do some things with the chapter.
"I was at college when we started the chapter and I was president of the alumni group for two years before going to State," she said.
Thompson said she was so shy when she entered North East Carolina Prep that she would cringe at the thought of getting up in front of a class to speak. Now, she readily talks about her passion for teaching and her love for the school.
"I want to be a role model and help everybody I can," she said. "I want to teach as much about agriculture as I can."
While schools all over eastern North Carolina were hiring teachers, Thompson knows why she is at North East Carolina Prep.
"It's because of the environment," she said. "The teachers I had made an impact on me. If it wasn't for the prep school and because of the loving environment that I'm able to be who I am. I had to come here because I want my students to have the same experience I did."