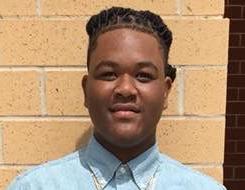 DeQuan Xavier Dickens, known as "Noot" to his family and friends, was one of 18 homicide victims last year in Rocky Mount.
But he is more than just another victim, his family says.
"I don't want him to be just another person who was shot and killed, because he was more than that to his family, to the school he attended and to the young people he came in contact with," said Quay Hill, a close cousin of Dickens who the family considers as his aunt. "I can't let him be just another body."
Dickens graduated from Rocky Mount High School in June 2019, having earned a certificate in early childhood education, his family said. He loved children and planned to become an educator. He enjoyed his job at Burger King.
On June 13, 2019, he turned 18. Less than a month later, he was killed.
Information released by the Rocky Mount Police Department about Dickens' death is sketchy. Officers responded about 1 a.m. on July 12, 2019, to 1132 Long Ave. in response to a ShotSpotter activation call. They arrived to find a woman wounded by gunfire and Dickens dead from multiple gunshot wounds, according to a press release at the time from Rocky Mount police.
But the tale the family tells is far more chilling — especially as they were on hand to witness the tragedy.
During recent interviews with Hill and Dickens' mother, Dameka Johnson, a fuller picture unfolded.
On the evening of July 11, 2019, Dickens finished his shift at Burger King, and he and his mother headed to the home of a cousin on Long Avenue. It was the cousin's birthday and family members and friends were at her home for a family gathering, family members said.
There were 18 people at the home that evening and about half of them were children. The youngest was 4 months old. Most of the others were women. There were two men there that night, and one of them was Dickens.
About 1 a.m., multiple shots rang out through the home.
Johnson said this was not a drive-by shooting. Someone stood in front of the house and deliberately fired multiple shots into the home. One of those bullets struck a family friend in the face. Some of those bullets struck Dickens and one entered his chest, piercing the name tag he was still wearing, Hill said.
While Dickens was killed and another woman was wounded, Hill said the outcome could have been worse.
"We could have all died," she said. "There were enough bullets for all of us."
Hill said she does not understand why this happened.
"I need the public to know that he wasn't a gangbanger. I don't care who he knew that was involved in gangs — he, as an individual, was not a gangbanger," Hill said. "I need people to know who he was. He was a hard worker. He was the life of the party and a joker. He was the youngest of five kids and the one most likely to be able to cheer up his mother. He was a good kid."
Johnson said much the same about her son.
"He was very loving, and he left a lasting impression. He was the clown of the family — but he was serious about his schoolwork and his job," she said.
The family is no stranger to violent death. Dickens' uncle, Dexter "Noot" Xavier Johnson, was killed in November 2006 on East Grand Avenue. His homicide remains unsolved.
Dickens shares much in common with his uncle. They share a middle name. They share a nickname. And they share a common fate — Dickens' homicide also is unsolved.
Hill said she hopes that by sharing her nephew's story, that will change.
"I feel like the more we put his story out, the more evidence will come in and the more phone calls the cops will get about his case," Hill said.
For Hill, Dickens' death has brought about grief, but it also has inspired her to try to improve the lot of children in memory of her nephew. She recently hosted a painting party for Miasia Perry, who was a victim of gunfire in September at her home in Nashville.
Hill said she worries about growing incidents of gun violence in the city and how that affects children. She also worries about the other factors, like poverty and loss of family, that affect children as well.
"Every child that doesn't have what they need is a victim," Hill said. "Honestly, I feel that every child in Rocky Mount is a victim right now because this city has really changed. There is a sense of fear in this community because of all the shootings."
For Dickens' mother, the situation has an even greater urgency.
"People need to speak up, because violence has taken over the city. We were sitting minding our own business and they came and shot at us. If that could happen to us, it could happen to anyone," Johnson said. "People need to stop letting the gangbangers take over the city."
Johnson said she needs someone to speak up and help the police solve her son's murder.
"I pray every night that they solve this murder," she said. "I am tired of this. I did not raise my son to be murdered."
Hill said Dickens' death still affects the family, especially the young ones.
"They keep asking when Noot will come home," she said.
While solving her nephew's murder may never bring full closure to the family, Hill said it will accomplish another purpose.
"At least that person won't be able to do this to another family," she said.